National Collegiate Athletic Association
The NCAA News - News and Features
December 15, 1997
UC San Diego fights back, claims seventh volleyball title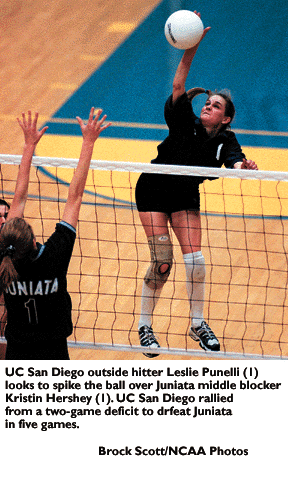 UC San Diego fell two games behind top-ranked Juniata but fought back on its home court December 6 to win its seventh Division III Women's Volleyball Championship.
The Tritons won the third game of the championship match but then fell behind, 9-2, in game four before battling back to win, 12-15, 6-15, 15-6, 15-13, 15-11.
UC San Diego won its first title since 1990 and first under second-year coach Duncan McFarland. Juniata, meanwhile, found itself on the short end of the final for the second straight year.
Katherine Brynjestad led the offensive attack for UC San Diego. The junior outside hitter had 19 kills and led all players with .342 hitting percentage.
All-American Sherine Ebadi finished the tournament with a combined total of 112 assists in UC San Diego's semifinal and final matches.
Juniata and UC San Diego, the only teams that have competed in all 17 Division III tournaments, advanced from the semifinals by defeating defending six-time champion Washington (Missouri) and Central (Iowa), respectively.
In the semifinals, Juniata swept second-ranked Washington, 15-13, 15-13, 15-4. UC San Diego survived a scare in the semifinals before defeating Central, 15-3, 15-8, 6-15, 16-18, 15-13.
UC San Diego finished the 1997 campaign with a 27-5 record, including a 20-0 mark against Division III opponents. Juniata concluded the season with a 43-2 record.
Central upended Washington in the third-place match, 15-9, 15-11, 15-4. Central completed the season with a 36-4 record. Washington finished its season with a 35-8 record.
The all-tournament team consisted of Brynjestad and Ebadi of UC San Diego, Melissa Myers and Jennifer Rebert of Juniata, and Abbie Brown and Candace Wilson of Central.
CHAMPIONSHIP
Juniata -- 15 -- 15 -- 6 -- 13 -- 11
UC San Diego -- 12 -- 6 -- 15 -- 15 -- 15
Juniata -- K -- E -- TA -- Pct. -- SA -- DG -- BS
Kristin Hershey -- 15 -- 7 -- 36 -- .222 -- 0 -- 2 -- 0
Marci Katona -- 12 -- 1 -- 21 -- .524 -- 2 -- 10 -- 0
Carrie Zeller -- 1 -- 7 -- 23 -- .000 -- 1 -- 26 -- 0
Anne Bock -- 4 -- 7 -- 28 -- .000 -- 1 -- 10 -- 0
Melissa Myers -- 19 -- 5 -- 53 -- .264 -- 0 -- 3 -- 2
Jennifer Rebert -- 7 -- 2 -- 17 -- .294 -- 1 -- 11 -- 1
Colleen Carver -- 0 -- 0 -- 0 -- .000 -- 0 -- 0 -- 0
Kristin Damico -- 0 -- 0 -- 0 -- .000 -- 0 -- 0 -- 0 --
Lisa Snyder -- 0 -- 0 -- 0 -- .000 -- 3 -- 3 -- 0
Angie Montag -- 0 -- 0 -- 0 -- .000 -- 0 -- 0 -- 0
Danielle Black -- 0 -- 0 -- 0 -- .000 -- 0 -- 0 -- 0 --
Stacy Weintraub -- 1 -- 0 -- 8 -- .125 -- 0 -- 5 -- 0
Kelly Cook -- 0 -- 0 -- 0 -- .000 -- 0 -- 0 -- 0
Jennie Lizun -- 0 -- 0 -- 0 -- .000 -- 0 -- 0 -- 0
Totals -- 59 -- 29 -- 186 -- .161 -- 8 -- 70 -- 3
UC San Diego -- K -- E -- TA -- Pct. -- SA -- DG -- BS
Leslie Punelli -- 4 -- 5 -- 33 -- .000 -- 0 -- 15 -- 0
Allison Bender -- 7 -- 3 -- 26 -- .154 -- 0 -- 11 -- 0
Sherine Ebadi -- 0 -- 0 -- 6 -- .000 -- 2 -- 14 -- 2
Dana Salter -- 1 -- 3 -- 6 -- .000 -- 5 -- 9 -- 0
Katherine Brynjestad -- 19 -- 6 -- 38 -- .342 -- 2 -- 7 -- 0
Dena Strube -- 2 -- 2 -- 10 -- .000 -- 0 -- 3 -- 1
Jaime Hackleman -- 0 -- 0 -- 1 -- .000 -- 2 -- 16 -- 0
Anne Moore -- 0 -- 0 -- 0 -- .000 -- 0 -- 0 -- 0
Shannon Hawes -- 9 -- 3 -- 18 -- .333 -- 0 -- 7 -- 0
Dannika Schauer -- 0 -- 0 -- 0 -- .000 -- 0 -- 0 -- 0
Jennifer McLain -- 1 -- 0 -- 2 -- .500 -- 0 -- 0 -- 0
Christine Kueneman -- 0 -- 0 -- 0 -- .000 -- 0 -- 0 -- 0
Shannon Noonan -- 12 -- 3 -- 27 -- .333 -- 0 -- 5 -- 1
Totals -- 55 -- 25 -- 167 -- .180 -- 11 -- 87 -- 4